Starting February 7, all CDL hopefuls looking to obtain a commercial driver's license (CDL) must now complete a standardized entry-level driver training curriculum with a registered FMCSA training provider.
Prior to the new Entry-level Driver Training Regulations, no consistent training program or database existed for commercial motor vehicle drivers. What curricula did exist lived at the state level and varied by state.
On Monday the FMCSA and the DOT took a huge step forward in rectifying this enormous oversight in commercial driver safety. But a step is still only a step and does not make for comprehensive safety reform. While the new ELDT rule is much needed, it still falls short in equipping all commercial vehicle drivers with the tools that allow truck drivers to be active participants in roadway safety when they are behind the wheel.
The Trucking Industry Acknowledges New Rule Doesn't Change Much
Many trucking and safety institutes agree that the ELDT regulations, in execution, do little to effect change on the roadways or for CMV drivers.
The American Trucking Associations (ATA) reports, "[d]espite false rumors spreading on social media, the process for obtaining a CDL will not markedly differ from what takes place today."
Even more concerning, at present, certain CDL training organizations throughout the US have programs that far exceed the training currently being touted as sufficient by the FMCSA.
The ATA cites the Federal Motor Carrier Safety Administration's acknowledgment in the Federal Register that, "[i]n the ELDT Final Rule Regulatory Evaluation, FMCSA estimated that 85% of CMV drivers receive pre-CDL training that, at a minimum, would meet the requirements of the ELDT final rule."
When it comes to creating safe CMV drivers, where does the new ELDT rule fall short?
The Greater the Size, the Greater the Harm, and the greater the training needs to be.
Commercial trucks are heavier, longer, more difficult to maneuver and take more time to speed up and stop. For reference, consider the average weight of a semi-truck (80,000 pounds) to that of the average sedan (3,200 pounds).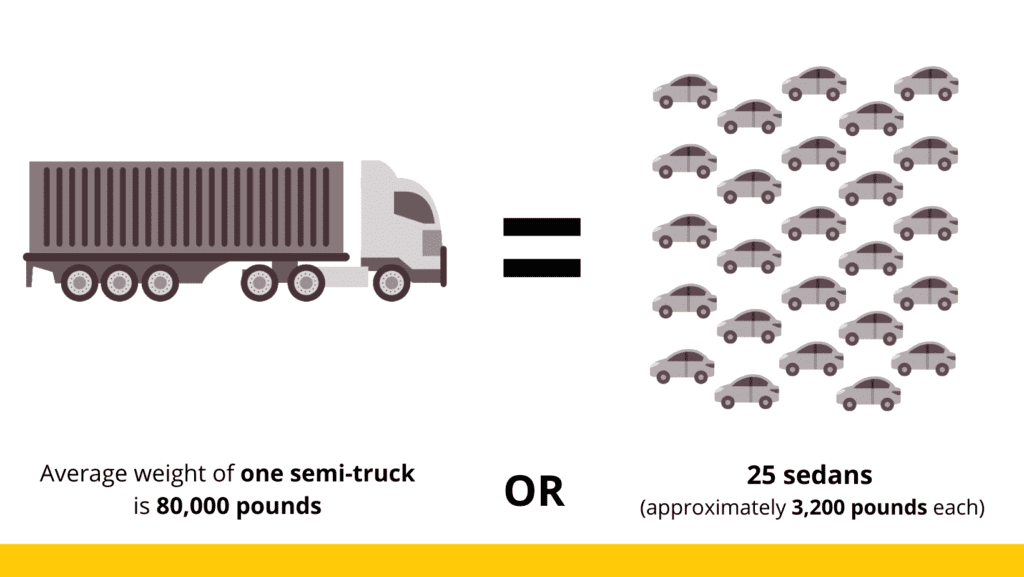 The drivers of vehicles that can cause the greatest harm on the road should bear a greater responsibility of care, and the training needed to operate each vehicle should reflect this. Different CMVs are classified by weight. New entry-level driver training rules should have considered this principle when establishing guidelines for drivers looking to obtain their CDL. As the size/weight of the commercial vehicle increases, so too must the training requirements.
The New CDL Rule has No Minimum Hours for Instructional Training
Despite its praise for requiring both classroom (theory) and behind-the-wheel (BTW) training hours, it's of note that the new ELDT rules do not mandate a specific number of training hours for theory or BTW training.
Even compared to licenses for standard, Class D-rated vehicles, the ELDT requirements fall short. Most state drivers licensing agencies require ordinary drivers to have a specific or set number of hours of driver training before obtaining a license.
For instance, in Ohio, to apply for a first issuance driver's license, the applicant must complete:
24 hours of classroom or online training with a licensed driver training school
8 hours of driving time with a certified instructor
50 hours (at least 10 at night) of behind-the-wheel training with a parent/guardian.
  Compare that to the requirements for a CDL, which has:
No minimum hours of classroom training
No minimum hours of online training
No minimum hours of driving time with a certified instructor
No minimum hours at night
Behind the Wheel Certification Subjectivity leads to blind spots in training.
Under the ELDT regulations, a driver-trainee will need to complete behind-the-wheel training, but the curriculum may vary greatly depending on where the trainee receives their training.
Unlike theory training, where prospective CDL owners must achieve an overall minimum of 80% on theory assessment, the same is not true for behind-the-wheel training.
Not only is there no benchmark for testing behind-the-wheel competency, but there is also no guidance on the length or subject matter that is covered as part of BTW training. Furthermore, motor carriers and owner-operators who have provided entry-level driver training in the past can continue to do so once they meet the training provider requirements of 49 CFR §380.703 and register online with the FMCSA's Training Provider Registry.
These oversights leave certified training providers to subjectively certify proficiency in arguably the most important part of training and leaves the door wide open for larger training and safety concerns to persist:
Without a standardized way to administer the BTW curriculum, how can certified training provide a consistent level of competency and safety awareness for CDL drivers, which is the purpose behind the rollout of these new guidelines?
How will compliance be ensured if/when new BTW training guidelines roll out?
Does this lack of standardization allow certified training providers to endorse unsafe drivers? If so, what will the FMCSA do about training programs that are certifying them?
How can the BTW training be verified?
With no guidance or mandatory minimum instructional hours in place for the BTW curriculum, it is reasonable to question how equipped new CMV drivers will be for the eventualities they will face on the road.
Things like nighttime, construction, and inclement weather driving hours are not standardized. How can the FMCSA and DOT be sure all registered training providers are covering these subjects completely and consistently? More importantly, how can these certified training providers be reasonably certain the drivers they're training are ready for the road?
It is only through a mandatory minimum number of BTW training hours that a training provider can assess a trainee's competency on a variety of roadway scenarios. The new rule fails to mandate minimum hours of driving time and therefore fails to ensure only competent drivers are certified to receive their CDL.
ELDT Fails to go the extra mile to make our roadways safer.
Disappointingly, the meeting minutes from the Entry-Level Driver Training Advisory Committee reflect a committee torn between prioritizing quality of training over quantity, and the rationale for the final decision of no minimum hours is questionable at best. Unfortunately, this undercuts the intent behind the new ELDT rules and leaves truck drivers and training institutions in the dark. And, more dangerously, leaves our roadways and the average private citizen no safer –at least not measurably –than they were before.
Author: Truck Crash Attorney / Class A CDL Truck Driver – Andy Young