What are speed limiters?
Many of the largest motor carriers already use speed limiters. Speed limits do just what their name implies – they are devices installed in a truck that limit the top speed a tractor trailer can drive. Speed limiters save lives.
Most commercial vehicles already include speed limiters. They work through a series of sensors that detect how fast a vehicle is moving. The sensor communicates that information to the engine's computer. At a pre-determined top speed, the computer restricts the flow of air and fuel to the engine.
Speed Limiters Reduce Crash Risk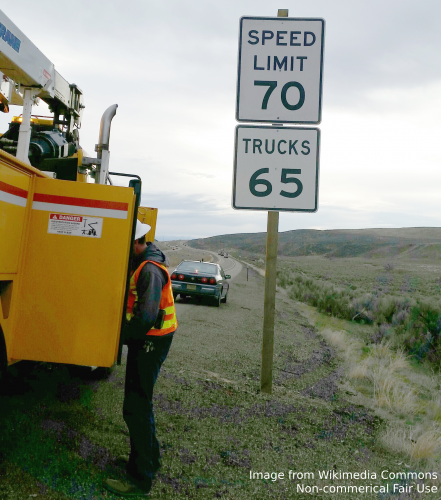 High speeds are a significant contributing factor to high fatality rates on our nation's roads. The National Highway Traffic Safety Administration (NHTSA) and the Insurance Institute for Highway Safety  (IIHS) only crash test vehicles at 45 mph or less. The human body cannot sustain crashes at higher speeds.
Since truck drivers are typically paid by the mile, there is a strong incentive to drive too fast. Because a new electronic logging device ("ELD") mandate makes it harder to distort on hours-of-service ("HOS") requirements. Per mile compensation always encouraged unsafe truck drivers to falsify logs and go farther and get the extra pay by mile. Now that it is harder to distort the HOS with the ELD mandate, unsafe truck drivers are incentivized to make up the difference by driving faster to achieve more miles and more pay.
It is estimated that limiting truck speeds will prevent 1,115 fatal truck crashes annually. 1
Speed Limiters Save Money
There is no cost to speed limit a truck. Fuel is the second largest expense for trucking companies, just behind labor costs. Increasing fuel efficiency and minimizing fuel consumption should be a major goal of any trucking company.
A truck traveling at 75 mph consumes 27% more fuel than one going 65 mph; so limiting truck speed to 65 mph would save 2.8 billion gals. of diesel fuel over a decade. 2 Consequently, the American Trucking Association has recommended enacting a national speed limit not to exceed 65 mph and governing speeds on trucks manufactured after 1992 at no more than 65 mph.
1 Department of Transportation, National Highway Traffic Safety Administration, Docket No. NHTSA-2015-0188, https://www.regulations.gov/docket?D=NHTSA-2016-0087
2 Whisler, Deboraph. "Fuel Economy 101." Fleet Owner. July, 2011. https://www.fleetowner.com/running-green/fuel/article/21660208/fuel-economy-101