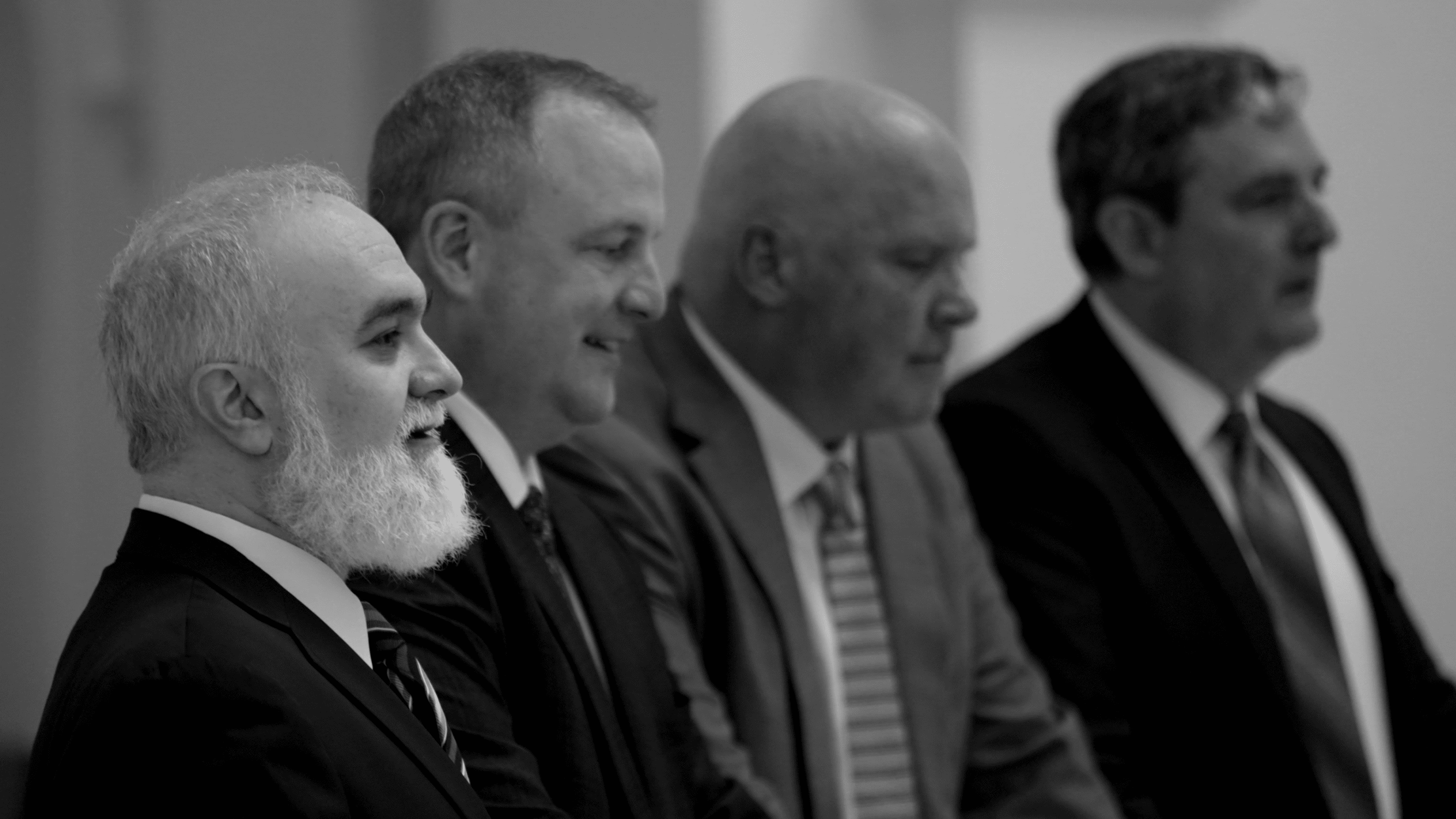 Contact US
Truck Crash Attorneys who Care
You are not defined by your truck crash, and justice is not defined solely by money.
Explore how our truck crash attorneys are helping truck crash victims find justice inside and outside of the courtroom.
Introducing the Law Firm for Truck Safety
With our exclusive concentration on truck crash cases and deep knowledge of trucking laws and semi-truck safety, the personal injury attorneys at The Law Firm for Truck Safety provide our clients with focused and compassionate representation after a semi-truck collision.
Inside the courtroom, we fight to help truck crash victims receive maximum compensation for all that was taken from them. Outside the courtroom, we lend our strength and courage to these same families, helping them champion their stories and advocating for safer roads and trucking industry reform. Alongside our clients and lawmakers, we work to create a world with zero catastrophic truck crashes.
Referrals & Co-Counsel
No other law firm knows trucks quite like us. Our trucking law expertise and trial experience allow us to win million and multi-million-dollar results year after year.
Involved in a Crash?
Our team of truck accident attorneys works tirelessly to help your family find justice in the wake of a catastrophic truck crash.
About The Law Firm for Truck Safety
Truck accident attorneys Michael Leizerman, Joe Ervin, Matthew Wright, and Andy Young individually have strong reputations as serious litigators who are committed to advancing the practice of truck crash law and advocating for safer roads throughout the nation. To better serve the victims and families of truck crashes, these four leaders in truck crash litigation consolidated their efforts to form the national truck accident law firm, The Law Firm for Truck Safety, LLP. As a firm and as truck safety advocates, we are committed to fighting for the victims of truck crashes and advocating for meaningful safety measures to prevent semi-truck crashes from happening on US roads.
Our Mission
The Law Firm for Tuck Safety was created with one clear goal in mind: to advocate for those who have been hurt because of a trucking company's or driver's careless negligence. This mission takes us both inside and outside of the courtroom. Inside the courtroom, we fight with honor and integrity for those who have been devastated by a senseless trucking tragedy. Outside of the courtroom, we fight for trucking industry and legislative reform with the goal of eliminating traffic violence involving commercial motor vehicles.
Our Commitment
When you have experienced a tremendous loss as a result of a truck crash, your family's pain demands diligent, thorough, and personalized legal representation from your personal injury lawyer.
Our firm is committed to providing this level of dedication to all of our clients, every step of the way.
We will leave no stone unturned in our pursuit of justice. For most families, seeking justice is about more than just money. In addition to maximum compensation, we want to help your family find the answers they need to heal. As a team, we are selective with the cases we take on because it's important to us that each of our clients receive the resources and time needed to uncover the full truth of what happened, why it happened, and how we can help prevent it from happening to others in the future.

We will treat you with integrity, honor, and compassion. In addition to being complex, the legal process can also be emotionally draining for families in grappling with tremendous loss — especially if this is your first time filing a personal injury lawsuit. Our attorneys understand this and are committed to walking you through the litigation process, ensuring that you fully understand the legal process and your options throughout. As a team, we will work with you to advocate for your rights and help you make the decisions that bring you one step closer to making your legal goals a reality.
Have more attorneys with Commercial Driver's Licenses (CDLs) than any other firm in the nation. Having first-hand insights into the rules, regulations, and standards of care to which truck drivers must adhere allows us to uncover critical case facts and work technical knowledge into our case strategies in ways other firms can't.
We are committed to helping truck crash victims nationwide. The justice you receive should not be limited by the personal injury attorneys in your area. We have served clients who we've met through recommendations from federal and state judges, trucking defense lawyers, and even court reporters. Our legal team has acted on a pro hac vice basis in over half of the natation's states, assisting victims of trucking accidents and their lawyers in litigating intricate truck accident cases.
We prepare every case to go to trial. Our top priority is the pursuit of justice, helping you recover compensation for all that has been taken from you. After all, your quality of life and ability to heal hinges greatly on your case results. Unlike most personal injury firms, we do not treat your truck accident lawsuit as a means to make a profit through a quick settlement. We work up every case so that we are prepared to go to trial; if your family does not wish for a jury verdict, preparing your case for trial allows us to negotiate settlement terms from a position of strength.
Never charge upfront for representation. We work on a contingency basis, which means that we don't collect legal fees unless we win your case.
Truck Crash Attorneys Who Care
Our legal team of dedicated personal injury attorneys has some of the brightest legal minds in the country. We offer compassionate representation and actionable legal advice to help you move through one of the most difficult times in your life, helping you pave a path to justice. We take pride in our expertise on the topics of trucking and truck safety. We leverage this knowledge to help you in your truck crash lawsuit as well as improve road safety so these devastating truck accidents cannot happen on US roads.
Referrals & Co-Counsel
No other law firm knows trucks quite like us. Our trucking law expertise and trial experience allow us to win multi-million-dollar results year after year.
Involved in a Crash?
Our team of truck accident attorneys works tirelessly to help your family find justice in the wake of a catastrophic truck crash.
Why Choose The Law Firm for Truck Safety
Block
Lawyers NBTA Certified in Truck Crash Law
Settlements and Verdicts
$1 Million and over
Largest Truck Crash Verdict
in Ohio History
A Record of Record Settlements and Verdicts
Within the legal community, The Law Firm for Truck Safety's attorneys are seen as leaders in trucking law. This notoriety is also backed by a history of record results for our clients.
Founding partner, Andy Young, was lead counsel on the

largest truck crash verdict in the state of Ohio

winning $42.4 million for two brain-injured teens.

Michael Leizerman, another founding partner, achieved a $16 million

wrongful-death consortium-only verdict

, once again the largest of its kind in the state of Ohio.
Five Attorneys Licensed to Drive Commercial Trucks
Only 1% of drivers in the U.S. hold a commercial driver's license (CDL) allowing them to operate tractor-trailers. At the Law Firm for Truck Safety, five of the attorneys hold Class A CDLs. We believe that these licenses — knowing first-hand the perspective of the truck driver — give us the ability to bring technical knowledge into our cases and advocate for our clients in ways other lawyers can't.
Our CDLs give us insight into the intricacies of driving these giant vehicles and the concentration and skill required to do so safely. This training also allows us to more accurately understand how our clients' crashes happened and how they could have been avoided. The knowledge a CDL brings us is baked into our comprehensive approach to trucking cases and the facts of our clients' cases.
Six Board-Certified Attorneys in Truck Accident Law
NBTA Board-Certified Truck Accident Law attorneys demonstrate exceptional knowledge of truck safety laws at both the federal and state levels. This distinguished accreditation is held by less than 1% of all licensed attorneys, and six out of our eight truck accident lawyers can claim this distinction.

The Law Firm for Truck Safety touts more attorneys Board-Certified in Truck Accident Law by the National Board of Trial Advocacy (NBTA) than any other law firm in the country. To obtain this certification accredited by the American Bar Association is no small feat. Our NBTA board-certified attorneys passed a rigorous exam with high scores and received recommendations from truck industry experts, judges, and opposing counsel.
Publications and Lecturers about Truck Crash Law
As a firm, we believe in service and giving back to the legal profession. Because of our commitment to service, our attorneys are often invited to teach other truck crash attorneys how to best advocate for their own clients and educate the public on the importance of improving safety within the trucking industry.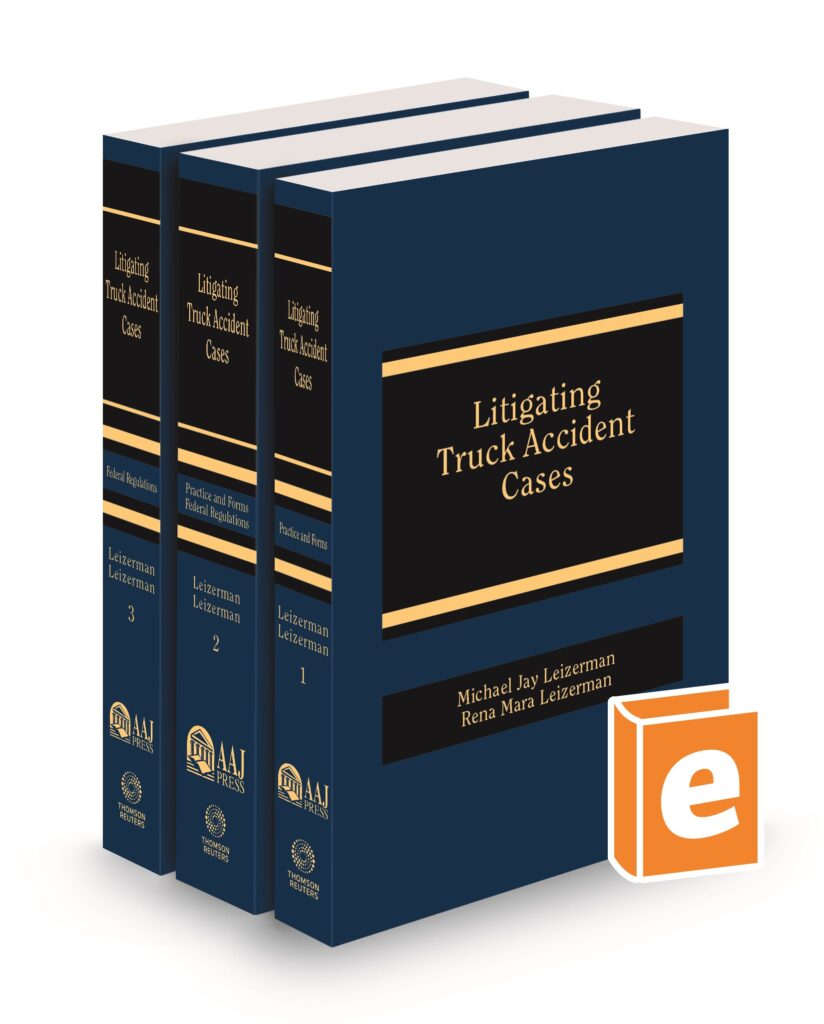 Attorneys Michael and Rena Leizerman co-wrote "Litigating Truck Accident Cases," a three-volume deep dive into building and arguing truck accident injury cases.
Michael, Andy, and Rena have all been interviewed by numerous news, radio, and podcast programs to speak on the topics of catastrophic trucking accidents and new safety technology in their capacity as "truck crash law experts".

Attorneys Andy Young and Amy Papuga regularly teach at the Great Lakes Driving School, an institution that helps drivers obtain their commercial driver's licenses (CDLs) .
Our lawyers frequently lecture on the essentials of trucking collision law and trial strategy for personal injury cases.
View our speaking event calendar and explore when our truck crash attorneys will be in your area.
Leaders in Litigation Groups and Professional Associations

Even when our attorneys are not representing your case, we are still committed to pursuing justice for your crash. We do this through our consistent presence in leadership roles within the areas of truck crash law and truck safety.
Andy Young is the first and only plaintiff attorney to sit on the Federal Motor Carrier Safety Advisory Committee (MCSAC), providing advice and recommendations to the FMCSA Administrator on motor carrier safety programs and motor carrier safety regulations.

Andy Young and Joshua Leizerman founded the Ohio Association for Justice's Truck Safety Section and continue to serve in leadership roles.

Michael Leizerman is a founding chair of both the American Association for Justice (AAJ) Trucking Litigation Group and the Academy of Truck Accident Attorneys.

In addition to serving in leadership roles in professional organizations on the state level, attorneys Joe Ervin, Michael Leizerman, Matthew Wright, and Andy Young all have held leadership roles within ATAA and AAJs trucking litigation group.
Tireless Safety Advocates
Through litigation and grassroots efforts, our firm is committed to building a safer trucking industry and safer roads, and advocating for a safer trucking industry is at the core of what we do as a firm and as people.
Attorney Andy Young has testified before US Congress, advocating for the inclusion of side underride guards on all big rigs and other large trucks.

Our lawyers donate their time to highway safety advocacy groups such as AnnaLeah & Mary for Truck Safety, The Institute for Safer Trucking, and the City of Cleveland's Vision Zero Taskforce.

Our firm regularly participates in events that raise public awareness of trucking safety issues and new technology.

As a firm we also donate money and time to safety organizations spearheaded by families who have lost loved ones to traffic violence, helping the memory of their loved one live on.
Involved in a Semi-Truck Accident?
Share Your Story with Us.
If you have been severely injured or have lost a loved one to a commercial vehicle, you deserve a truck accident lawyer who has the experience, education, and empathy necessary to fight for you in the courtroom.
We invite you to share your story with us. We would be honored to hear it and happy to provide you with a free, confidential, no-obligation case review.
We invite you to call us and speak directly with a team member if it is easier to do so.
CALL TODAY: 1-800-628-4500