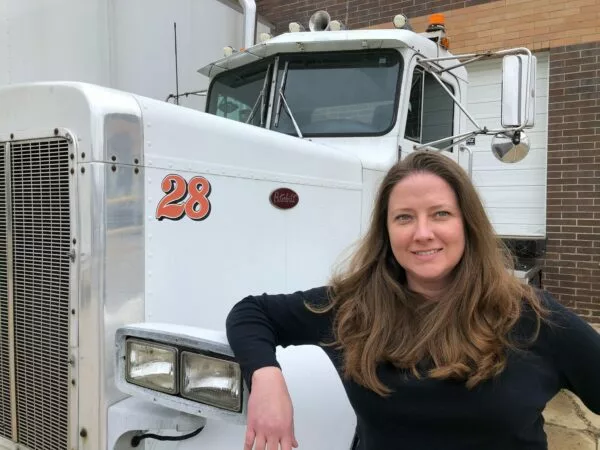 Attorney Amy Papuga has achieved a status that can be claimed by only 1% of ALL licensed drivers in the United States.  She has earned her Class A Commercial Driver's License and can now legally operate combination tractor-trailers / semi-trailers / or truck and trailer combinations with a gross vehicle weight rating (GVWR) of 26,001 pounds or more.  Amy has also earned endorsements that allow her to operate manual shift commercial motor vehicles, doubles, triples, and tank vehicles.  Essentially, she can legally drive just about any vehicle seen on our roadways.  Of all Class A drivers, 93.8% are male, so Amy joins an even more elite group… women who can drive big rig trucks!
What's involved in Class A CDL Certification?
To attain this goal, Amy voluntarily signed up for truck driving school at the Great Lakes Truck Driving School in Columbia Station, Ohio.  Her training was extensive, requiring her to spend three evenings a week and ten consecutive Saturdays in both classroom and in-cab truck training.  For the first several weeks, Amy received intense instruction on the detailed safety rules and information found in the Ohio Commercial Driver License Manual.  This manual covers the minimum standards that the federal government requires for the licensing of commercial drivers: vehicle inspection, shifting gears, seeing, communicating, space management, controlling speed, seeing hazards, distracted driving, aggressive drivers, night driving, driver fatigue, driving in fog, winter driving, hot weather driving, railroad crossings, driving emergencies, accident procedures, and much more.  Section 6.1 "Driving Combination Vehicles Safely" aptly states, "combination vehicles are usually heavier, longer, and require more driving skill than single commercial vehicles.  This means that drivers of combination vehicles need more knowledge and skill than drivers of single vehicles."
Amy spent approximately 190 hours obtaining the required knowledge and skills to safely drive a tractor-trailer.  About 90 hours were spent in the classroom acquiring the knowledge necessary to pass written tests to obtain a temporary CDL.  Thereafter, Amy spent roughly 100 hours in a truck cab, on the road, and in the school's truck yard mastering the skills necessary to safely drive a tractor-trailer and perform the essential duties of a truck driver.  The skills helped her pass three additional field tests: a backing / basic vehicle control skills test, an on-road test, and an oral vehicle inspection test.
Why does this matter to our clients?
Leizerman & Young represents survivors and families of truck crashes.  Our clients include not only those in passenger vehicles but also truck drivers involved in crashes with other truck drivers.  To be an effective truck crash attorney, it is imperative to have personal experience driving a tractor-trailer!  Trucks can weigh up to 80,000 pounds, which is approximately twenty times the weight of an average 4,000 pound car.  The length of a combination tractor-trailer is frequently more than 70 feet.  Both the increased weight and length dramatically change the maneuverability and stopping distance for these large vehicles.  To effectively prove that a truck crash was the result of truck company negligence and the driver's failure to act reasonably, attorneys require an understanding of how these trucks operate.  Very few attorneys have Class A CDLs.  Rarely, if ever, does a defense attorney have a Class A CDL.  Frequently, a truck company's owner or safety director does not even have a Class A CDL.
No other truck crash personal injury law firm in the nation can boast to having as many Class A CDL licensed attorneys as Leizerman & Young.  Amy now increases that number to four!  This gives us a distinct advantage in proving that the truck driver and truck company failed to prevent their crash.  Book knowledge can never replace practical hands-on experiential knowledge.  The attorneys at Leizerman & Young truly understand truck crash vehicle dynamics, going through the gears, downshifting, increased stopping distance, slowing the truck down before approaching a stale-green light, hazard awareness, keeping a proper lookout, mirror usage, the 12-15 seconds required to safely accomplish a left hand turn in a tractor-trailer, underride crashes, and, much more.  One of our Class A CDL Attorneys even owns and regularly drives a Peterbilt tractor and 45-foot trailer.  The nuances and subtleties learned from the practical experience of legally driving a tractor-trailer help to maximize recoveries for our clients.  This experience also gives us credibility in our role as truck safety advocates as we work tirelessly for legislative and policy changes to prevent truck crashes from happening to others.
Please help us extend our warm congratulations to Amy on achieving this great accomplishment!  Please allow Amy and our team of Class A CDL lawyers put our practical experience to work for you and your case today.
- Andy Young, March 23, 2020