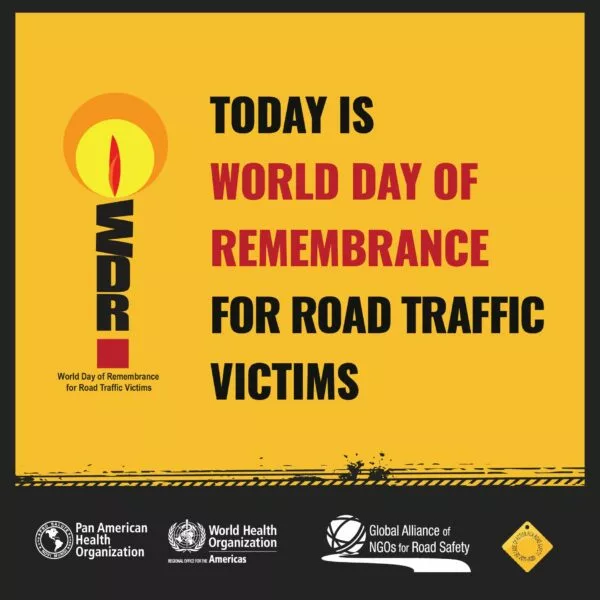 The Attorneys at The Law Firm for Truck Safety are passionate about reducing roadway deaths.  Along with the rest of the world, we honor and memorialize victims of crashes this day, November 15th ,as part of a global initiative known as "World Day of Remembrance for Road Traffic Victims."
Pursuant to General Assembly Resolution 60/5, the United Nations adopted the third Sunday of November as a day to draw attention to the tragic consequences of road crashes.  This day is to memorialize and recognize more than 1.35 million deaths on our global roadways.  Over half of these deaths are vulnerable road users: pedestrians, cyclists, and motorcyclists.  This day is to remember that there is no acceptable number of traffic deaths and to bring awareness that ALL traffic crashes are preventable.
Attorneys Andy Young and Amy Papuga of The Law Firm for Truck Safety join volunteers from Bike Cleveland, Families for Safer Streets, University Circle, Inc. and the City of Cleveland's Vision Zero Taskforce to memorialize those who have died on the streets in and around Cleveland, Ohio.
Each pair of shoes, seen in these photographs, represent
someone who has died in the Cleveland area in 2020 alone.
Andy, Amy and other volunteers honored these individuals by placing each name on an individual pair of shoes.  Jacob VanSickle and Deletrece Daniels of Bike Cleveland can be seen filming Annie Pease, Director of Transportation, University Circle, Inc. honoring the lives of these local citizens.  Anne Tillie, Policy Analyst for the Cleveland City Council was also interviewed to help bring awareness to the City of Cleveland's Vision Zero initiative.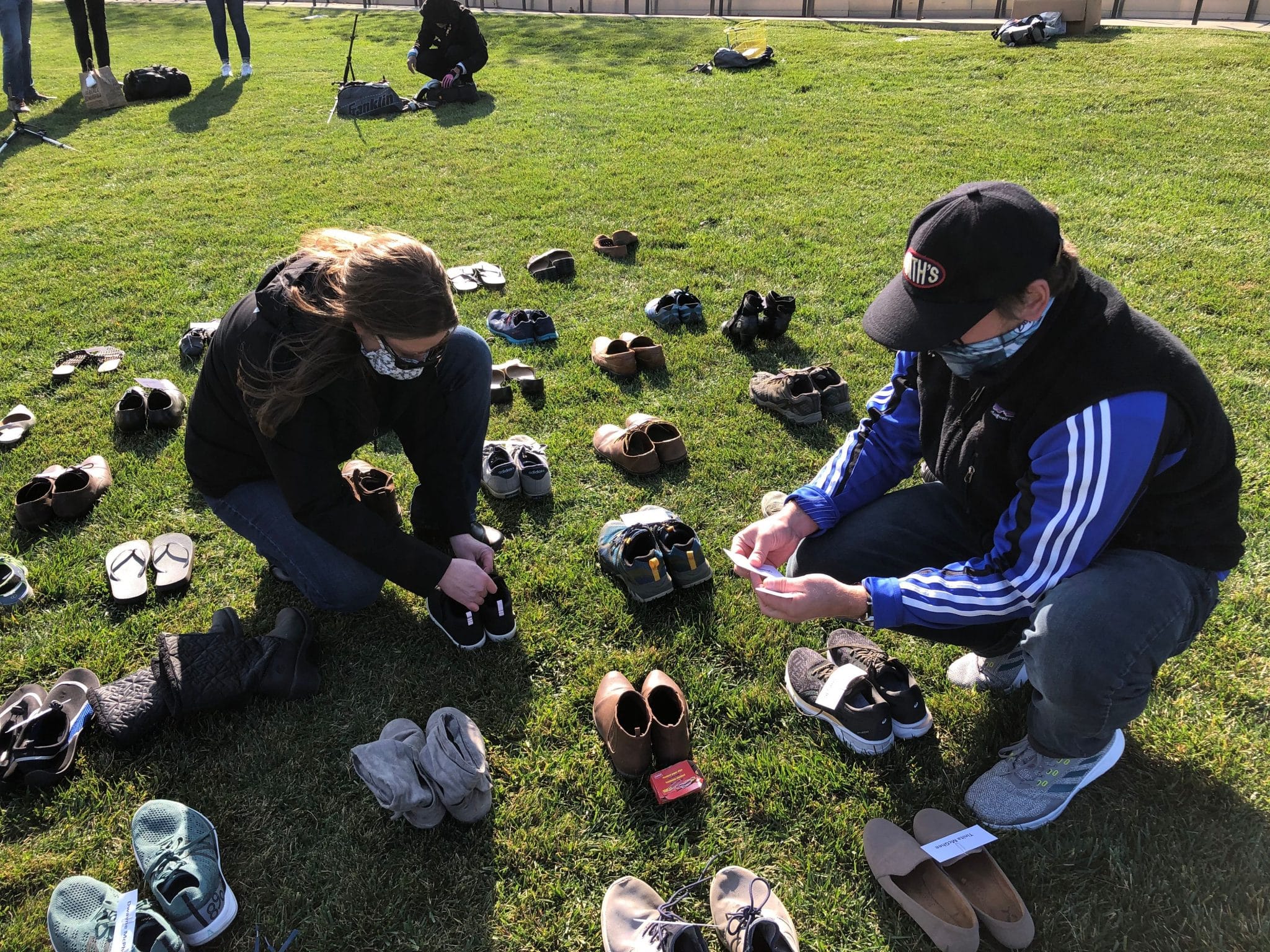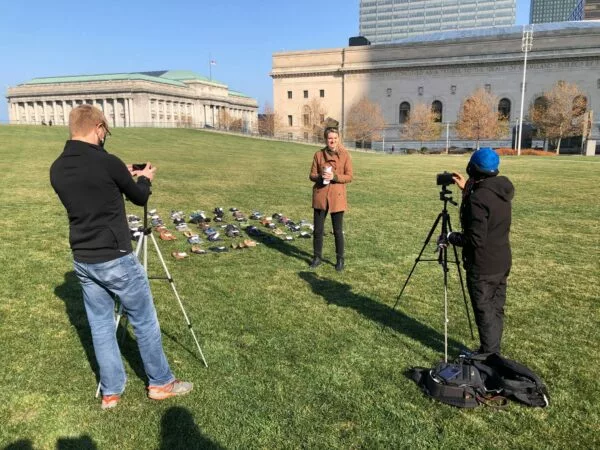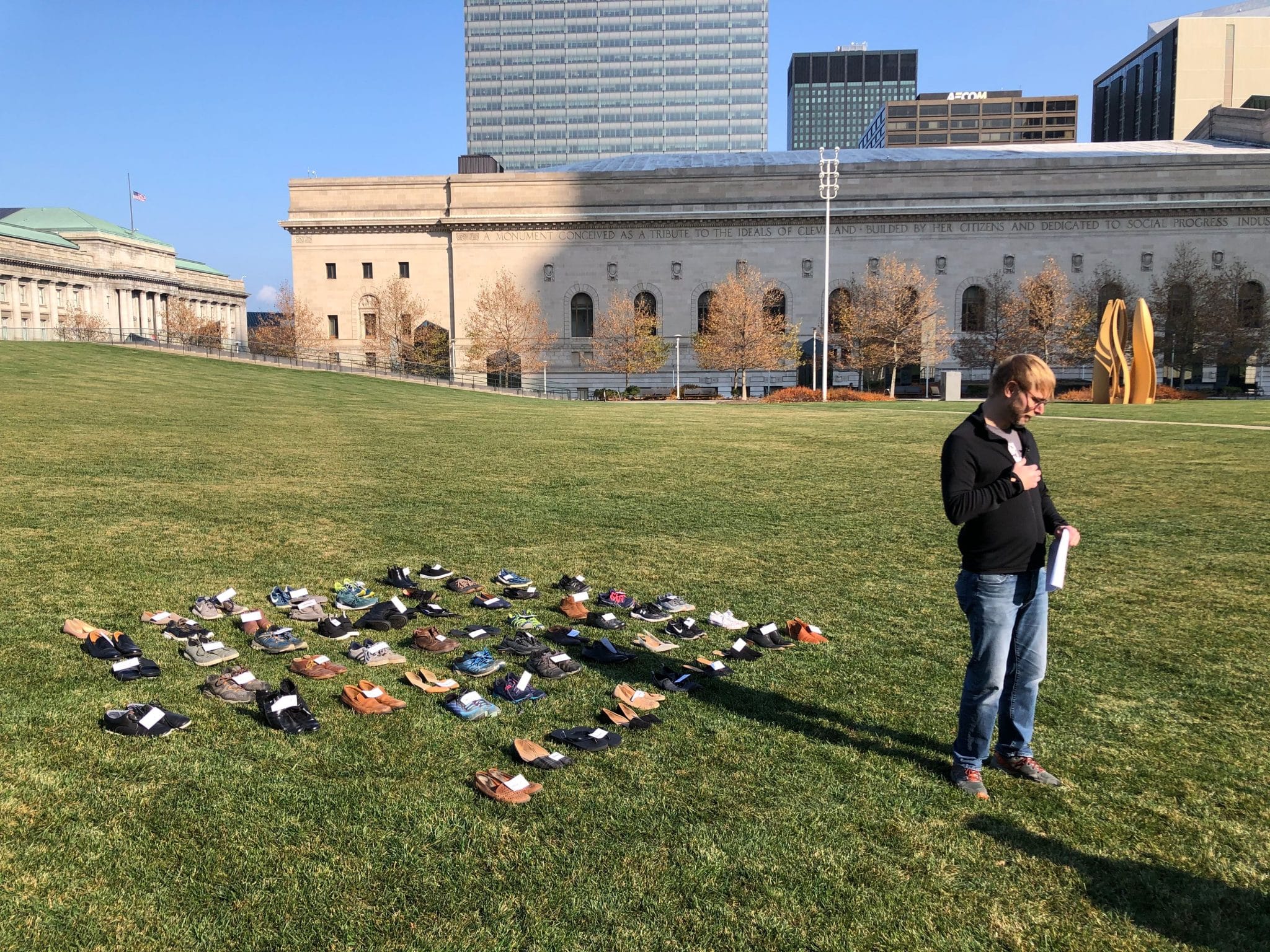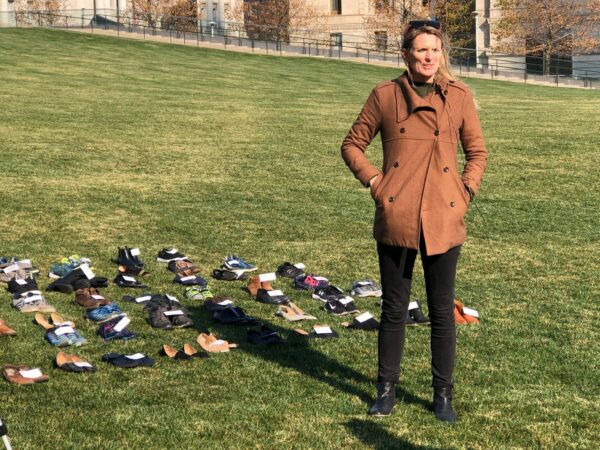 To learn more about World Day of Remembrance for Road Traffic Victims, please visit the United Nations website.  As referenced at this website, the goal is to "Remember. Support. Act."  The objectives of World Day of Remembrance 2020 are to provide a platform for road traffic victims and their families to:
memorialize all people killed and seriously injured on our roadways;
thank and acknowledge our first responders;
draw attention to the annual epidemic that takes the lives of so many;
advocate for safer systems and processes for preventing roadway crashes; and,
provide greater support for road traffic victims and their families.
The Attorneys and Team at The Law Firm for Truck Safety take seriously the cherished responsibility of telling the stories of our clients who have died or been seriously injured.  We act as fierce and compassionate advocates to not only seek justice on their behalf, but to work tirelessly to prevent similar tragedies from happening to others.  Please stand with us as we honor all of our clients across the nation who have been needlessly harmed.  Please stand with us as we also honor the 2020 victims from the local Cleveland area.  Join us by lighting a candle and saying a prayer this day on behalf of these individuals and their families.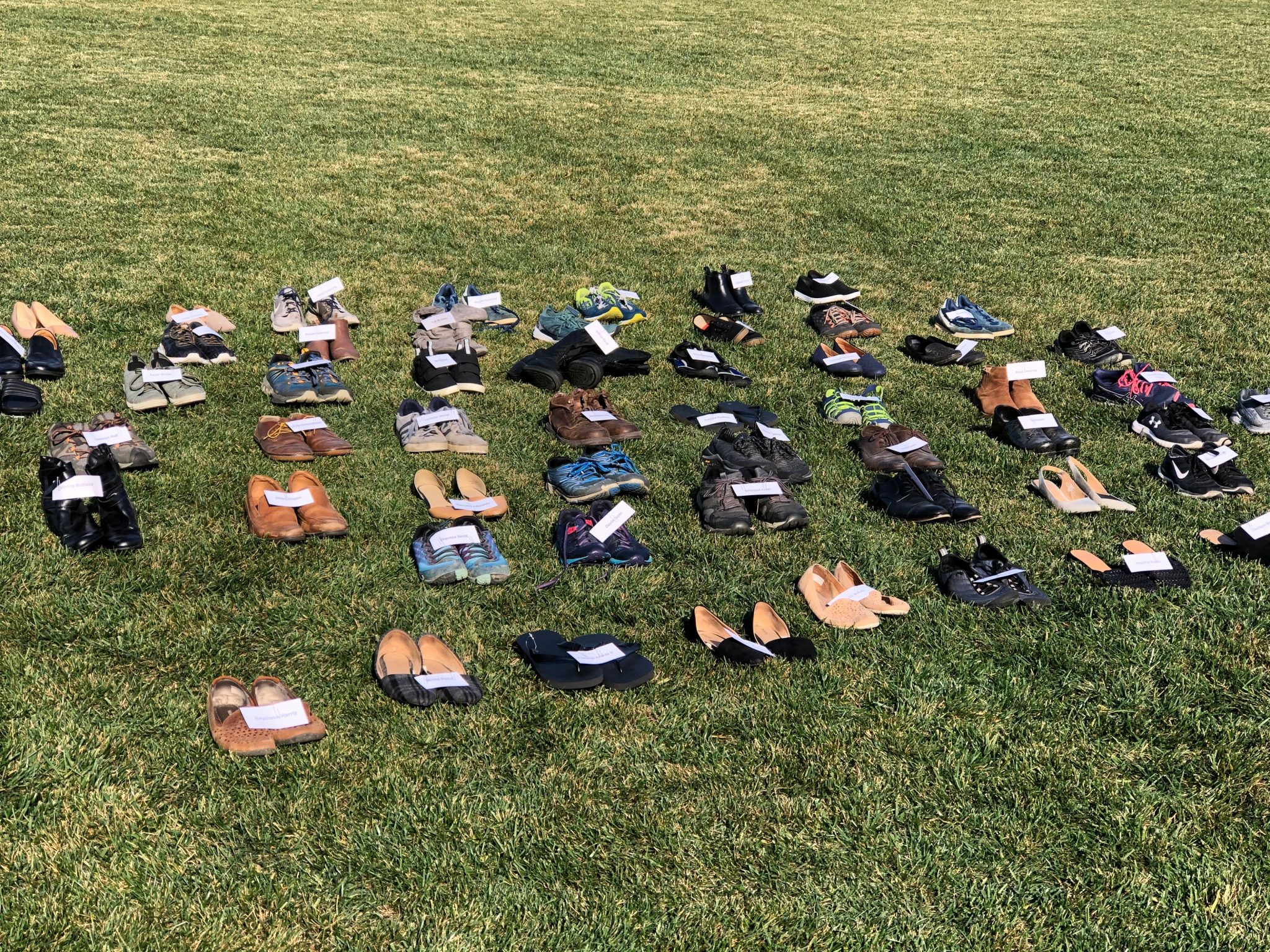 The names of 2020 traffic fatality victims from the City of Cleveland region who are remembered in this memorial are as follows:
January 2020
Natalia Woody
Mohammed Ali
Mac Harris
February 2020
Denine Pierce
Deron Grant
Roberto Russell
Tyron Stephenson
Franciso Juarez II
Evianna Rutland
Kayla Wade
March 2020
Herlane Brown
Tiaundra Edwards
Nicole Coots
James Stradford
Beth Christiansen
Lachole Oliver
Jimmy Vinson
April 2020
Emmanuel Moss
Michael Cabil
Antonio Ponder
Jennifer Rucki
Detwon Hall
May 2020
Robert Shoemaker
Theresa Scott
Phillip Lewis
Christopher Gray
Daniel Copeland
Efrain Garcia-Munoz
June 2020
David Scruggs
Marcis Joiner
Joseph Ponsford
Jeffrey Flach
Floyd Dawson
Rayshaun Harris
July 2020
Devin Isom
Asarah Jones
Jerry Davis, Jr.
Gabriella Cartee
Dwayne McPherson
David Glass
Keontae Williams
August 2020
Christian Keeney
Darin Day
Shania Johnson
Carmen Stewart
Frankie Pacheco
September 2020
Tinita McGhee
Jared Camacho
Richard McIntyre
Thomas Cusick
Amanda Burns
Jason Williams
Daniel Ripepi
October 2020
Rosa Dearing
Cecilia Mary Ann
Goines-Walton
Sierra Thomas
November 2020
Queen Sanford-Boggan
Please honor these individuals by saying their names aloud.  Please then meditate about your own responsibility to drive safely when we get behind the wheel of our car.  Your family and other families depend on us all to have a safe drive home.